Welcome to join our Team!
---
PK Cables do Brasil Ltda
Rua Nicaragua, 847, Bacacheri
Edifício Brooklyn, 4º andar
CEP 82510-170 - Curitiba
PR – Brasil
Tel. + 55 41 2109 9717
PK Cables do Brasil Ltda
Rodovia SC 301, 4195 - Fragosos
89.294-000 - Campo Alegre
SC - Brasil
Tel./Fax. +55 47 3203 0222

BRAZIL
O Grupo PKC é um parceiro confiável e reconhecido pelo setor de transportes. O elemento-chave que permite isso é a abordagem de Gerenciamento da Complexidade da PKC.
O Grupo PKC tem uma longa história na fabricação de chicotes elétricos no Brasil, já que a primeira fábrica foi fundada em 1998. Hoje, a PK Cables do Brasil possui duas fábricas em Campo Alegre e um escritório de apoio em Curitiba. A empresa é especializada na produção de sistemas cabeamento para caminhões, ônibus, tratores, colheitadeiras e carros de passeio.
PKC Group is a trusted and acknowledged partner in transportation industry. The key element enabling this is PKC´s Managing the Complexity approach.
PKC Group has a long history in manufacturing wiring harnesses in Brazil as the first plant was established already in 1998. Today, PK Cables do Brasil has a manufacturing facility in Campo Alegre and supporting office in Curitiba. The company is specialised in producing wiring systems for trucks, buses, tractors, harvesters and passenger cars.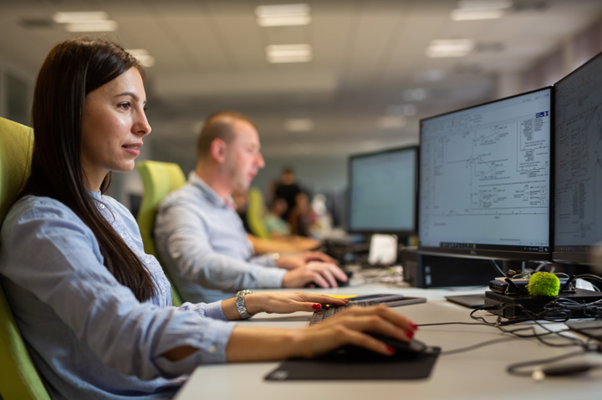 O Grupo PKC, membro do Grupo Motherson, é um parceiro confiável na indústria global de chicotes elétricos comerciais. Fornecemos aos nossos clientes, liderando a experiência do setor com um conceito completo de recursos de design e fornecemos soluções personalizadas e econômicas.
PKC Group, a member of Motherson Group, is a trusted partner in the global commercial vehicle wiring harness industry. We provide our customers, leading industry expertise with a full-service concept of design capabilities and deliver tailored, cost-efficient solutions.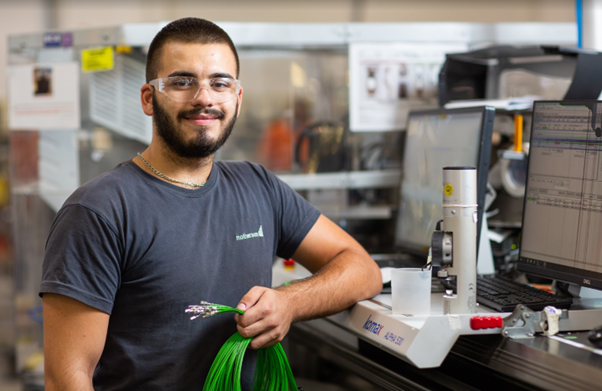 Acreditamos que todos podem alcançar coisas extraordinárias. Ao pensar alto, permitindo-nos sonhar e melhorar todos os dias, alcançando objetivos aparentemente impossíveis. Procuramos pessoas que tenham o motivador interno para aprender e se tornarem melhores a cada dia. Pessoas motivadas a criar melhores soluções para todos os nossos stakeholders: nossos clientes, funcionários, investidores e as comunidades em que trabalhamos. Em todos os níveis da nossa companhia, abrimos espaço para essas pessoas florescerem.
We believe "Everybody can achieve extraordinary things." By aiming high, allowing ourselves to dream and improving everyday, we have achieved seemingly impossible goals. We look for people who have the inner driver to learn and to become better every day. People who are motivated to create better solutions for all our stakeholders: our customers, employees, investors and the communities we work in. At every level in our company, we make room for such people to flourish.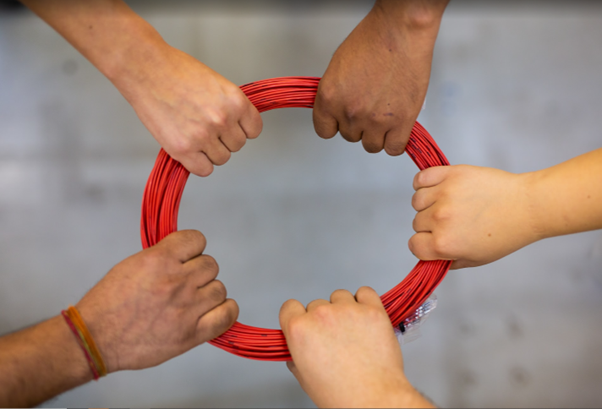 Bem-vindo ao nosso time!
Você pode enviar um CV através de nossos formulários de inscrição ou por e-mail recrutamento@motherson.com
Welcome to join our team!
You can send a CV or a letter of motivation via our application forms or by email recrutamento@motherson.com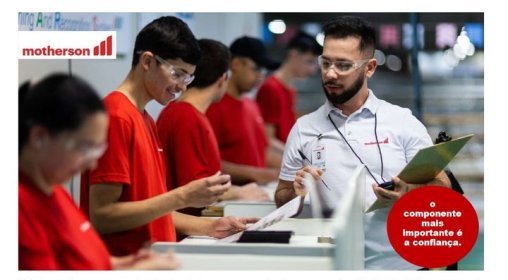 Estamos com oportunidades disponiveis para *Jovem aprendiz PCD (Pessoa com deficiência)*