08.03.2017
PKC ARNESES Y ACCESSORIOS DE MÉXICO RECEIVES PRESTIGIOUS NAVISTAR DIAMOND SUPPLIER AWARD
Company Awards 'Diamond Supplier' to PKC for Outstanding Performance in Quality, Delivery, Technology and Cost
Ciudad Acuña, Coahuila (March 6th, 2017) – The PKC Group and its Arneses y Accessorios de México plant have been honored by the Navistar International Corporation, with the designation of Navistar's "Diamond Supplier" Award. Navistar officials presented the Award to PKC officials Rico Mutone, Senior Vice President and Chief Operating Officer, and Marty Hughes, Customer Executive, at a formal recognition and celebration ceremony held at the Navistar Headquarters in Lisle, Illinois, on February 15th. This marks the 3rd year in a row that the PKC Group has received this prestigious honor.
In presenting the Award, Navistar's Dave McKean, Vice President of Procurement, stated: "The PKC Group provides wiring harnesses across all of Navistar's truck platforms. They are being recognized for outstanding performance and demonstration of strategic partnership, through exceptional quality, delivery and the constant pursuit for productivity improvement." He added, "The PKC Group's incomparable sense of urgency - a minute, not hours' mentality - has been invaluable to Navistar over their nearly two decades of support. Their proactive management and ability to react to critical requirements have been vital to Navistar's successful product launches."
In accepting the award from Navistar on behalf of the Arneses y Accessorios de México plant and its employees, Rico Mutone, Senior Vice President and Chief Operating Officer, stated: "We are honored to be the recipients of this prestigious Diamond Supplier Award. Of course, we strive to produce and offer only the very best products for all our customers. And our ability to do that is directly due to the uniqueness of the know-how of our talented employees at Arneses, and at all our plants. This award is recognition for their dedication and hard work, and I recognize and applaud them." He added: "Navistar is a coveted customer and we pledge to maintain and enhance the collaborative quality of our working relationship, with the principal goal being to achieve and exceed their high expectations."
Navistar International Corporation (NYSE: NAV) is a holding company whose subsidiaries and affiliates produce International brand commercial and military trucks, proprietary diesel engines, and IC Bus brand school and commercial buses. An affiliate also provides truck and diesel engine service parts. Another affiliate offers financing services. Additional information is available at www.navistar.com.
Arneses y Accessorios de México, located in Ciudad Acuña, manufactures and sells wiring systems and components for the commercial vehicle, automotive and electronics industries. Arneses is owned by the PKC Group -- a global designer and contract manufacturer of wiring systems and electronics. Additional information is available at www.pkcgroup.com.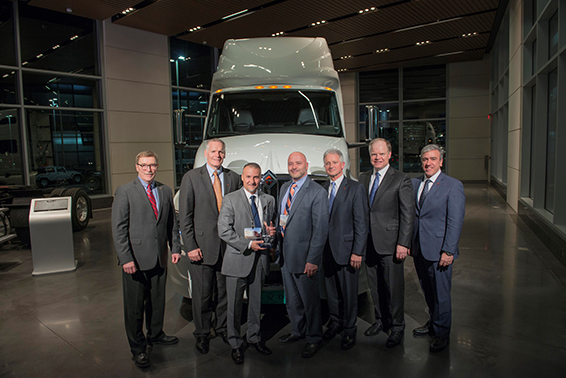 Navistar Awards PKC Group with Diamond Supplier Award, for 3rd Consecutive Year
Pictured, from left to right are:
Troy Clarke, Navistar CEO and Chairman
Bill Kozek, Navistar President, Truck & Parts
Marty Hughes, PKC Customer Executive
Rico Mutone, PKC Senior Vice President & Chief Operating Officer
Denny Mooney, Navistar Vice President, Product Development
Walter Borst, Navistar Executive Vice President & CFO
Persio Lisboa, Navistar President - Operations
---
More news